Chapter History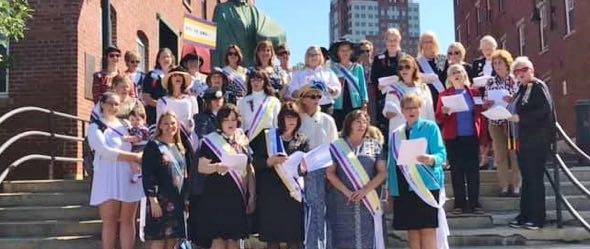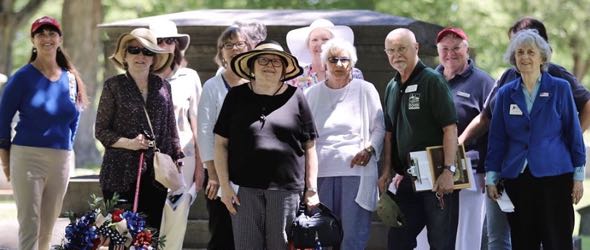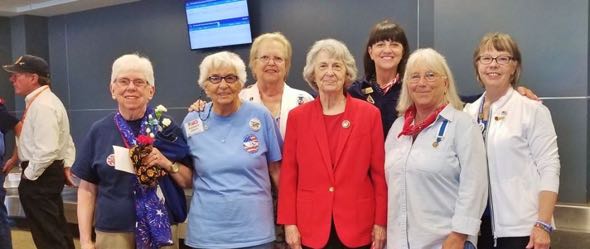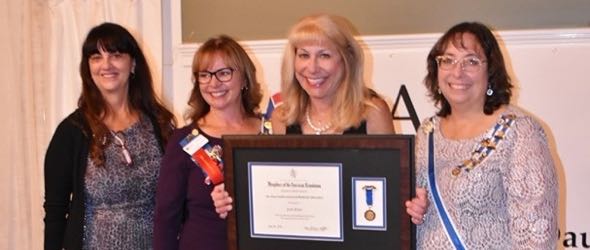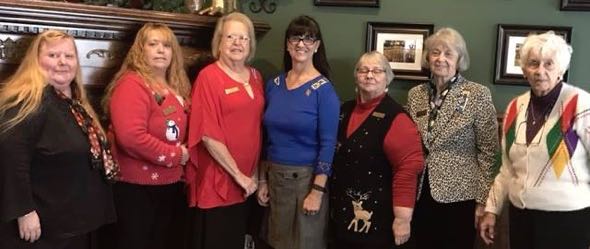 The Margery Sullivan Chapter was founded on February 3, 1896, at the home of Mrs. Susan E. Sawyer, organizing regent. There were fifteen charter members.
Our Charter Members
Susan E. Sawyer (Mrs. Charles H.), Organizing Regent
Gertrude Sawyer (Mrs. William D.), Vice Regent
Abbie M. McDuffee Chase (Mrs. Charles K.), Treasurer
Caroline H. Garland (Miss), Registrar
Margaret P. Varney (Miss), Historian
Agnes Cheney Fish (Mrs. Charles)
Anna P. Frost (Miss)
Margaret B. Frost (Miss)
Martha Frost (Mrs. George S.)
Sophia D. Hall (Mrs. Colonel Daniel)
Sarah Low (Miss)
Gertrude S. Sawyer (Mrs. Charles F.)
Sarah Seavey (Mrs. J. Frank)
Hannah W. Smith (Mrs. Jeremiah)
Lydia A. Webster (Miss)
---
Margery Sullivan
by Phyllis May Caron Gagnon
Margery Sullivan, that was her name
Married John Sullivan – her claim to fame.
But Margery Sullivan, she had a life,
And she was more than John Sullivan's wife
Born Marg'ret Browne, in Ireland of old,
Known for her beauty, and known to be bold!
At 9 years of age a poor orphan girl,
She boarded a ship bound for the new world.
Also on board, a man of thirty-one,
Tall, distinguished Owen O'Sullivan.
In the new world, he changed his name to John,
And then was hired a teacher before long.
Years later, when Marg'ry was twenty-three,
John paid her indenture – a hefty fee.
And thus began their life of wedded bliss
The perfect marriage, with maybe a twist…
Adored by his students, happy with life,
It seems the husband neglected his wife.
At home, on the farm, in the fields she toiled,
Til, over time, her Irish temper boiled!
So, "Master Sullivan," he took the door;
He would not abide the shrew anymore!
But Marg'ry atoned, in public no less,
And in the Boston Post, wrote her redress.
Margery promised to amend and reform,
So, John relented and he returned home.
Sixty years, all told, their marriage would last
Until, at one hundred and five, John passed.
But, the story of Margery and John
Through their children, forever lives on.
The warriors and Patriots Margery raised
Tell of a woman to be ever praised!
---
| | |
| --- | --- |
| Our Former Regents | Dates |
| Susan E. Sawyer | 1896-1897 |
| Gertrude H. Sawyer | 1897-1899 |
| Agnes C. Fish | 1899-1900 |
| Helen M. Murkland | 1900-1901 |
| Fannie D. French | 1901-1903 |
| Eva G. Hurd | 1903-1905 |
| Winifred L. Goss | 1905-1907 |
| Katherine V. H. Brown | 1907-1909 |
| Elizabeth P. Tapley | 1909-1911 |
| Alice C. Lamothe | 1911-1913 |
| Margaret P. Varney | 1913-1915 |
| Sara A. Pike | 1915-1917 |
| Olive H. Houston | 1917-1919 |
| Mary Abby L. Manock | 1919-1921 |
| Minnie D. Whitney | 1921-1923 |
| Alice Paton Barrett | 1923-1925 |
| Jennie M. Demerritt | 1925-1927 |
| Madeline Thorndike Reynolds Smith | 1927-1929 |
| Ethel Bennett Chapman | 1929-1931 |
| Georgia B. Case | 1931-1933 |
| Madeline Thorndike Reynolds Smith | 1933-1935 |
| Alice Kingman Hill | 1935-1937 |
| Lila B. Roberts | 1937-1939 |
| Dorothy K. Kalijarvi | 1939-1941 |
| Florence E. MacDaniel | 1941-1944 |
| Olive S. Austin | 1944-1946 |
| Bertha M. Davis | 1946-1948 |
| Elizabeth S. Philbrick | 1948-1950 |
| Dorothy S. Spofford | 1950-1952 |
| Bernice S. McKone | 1952-1953 |
| Dorothy L. Wentworth | 1953-1954 |
| Bernice S. McKone | 1954-1956 |
| Ella M. Newcomb | 1956-1962 |
| Wilma Thorin | 1962-1964 |
| Ruby H. Farrell | 1964-1966 |
| Beatrice H. Lemke | 1966-1968 |
| Marion J. Hurd | 1968-1970 |
| Marion S. Nossiff | 1970-1972 |
| Marion J. Hurd | 1972-1976 |
| Dorothy G. Brown | 1976-1979 |
| Miriam D. Printy | 1979-1985 |
| Margaret S. Sumner | 1985-1989 |
| Eleanor G. Bryant | 1989-1992 |
| Polly G. Walker | 1992-1995 |
| Maryann H. Wentworth | 1995-1998 |
| Elizabeth S. Canada | 1998-2001 |
| Alta Hartdorn | 2001-2004 |
| Barbara Langley | 2004-2007 |
| Mae Strawbridge | 2007-2010 |
| Patricia Holt | 2010-2016 |
| Christine Drown | 2016-2022 |